Mangere
About Mangere catchment
Located north-west of Whangārei, the Mangere catchment is a mostly low-lying area of intensive agriculture. Its main river, the Mangere River, is a slow-flowing tributary to the Wairua River.
Mangere River's water quality results indicate it is one of the more impacted of Northland's monitored rivers. However trend analysis indicates that Mangere's water quality is getting better over time, and in 2014 the Mangere River was identified at the 2014 River Awards as the most improved river in Northland based on the long-term decline in dissolved reactive phosphorus levels.
While this is good news, there is still clearly substantial room for improvement in water management and this is the primary aim of the Mangere Catchment Group.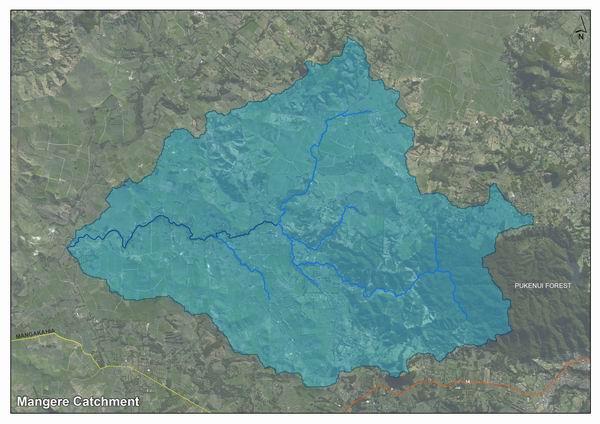 Mangere catchment group
Mangere catchment group was formed in mid-2013 to help determine how Mangere catchment's freshwater resources should best be managed into the future. The group includes representatives from tangata whenua, dairy, horticulture, environmental / public interests and Whangarei District Council. The Northland Regional Council representative on the Mangere Catchment Group is Councillor Bill Shepherd.
Read the Mangere catchment group's Terms of Reference
Talk to your local representative
Part of the catchment group members' role is to liaise with their local community or sector groups to support two-way feedback on the management of the Mangere catchment.
You can get in touch with your local representative via the group's regional council contact person. Give us a call to find out who the current rep is.
Freephone - 0800 002 004
Email - [email protected]
Catchment plan
The Mangere catchment group has developed a catchment plan to tailor the way fresh water is managed in the Mangere catchment. The catchment plan includes regulatory (i.e. rules) and non-regulatory water management measures – regulatory measures can be included in the new Regional Plan while non-regulatory measures will be set out in an implementation plan.