Hātea
About the Hātea catchment
The Hātea sub catchment of the Whangārei Harbour catchment covers 4,470 hectares (15%) of the greater harbour catchment. Land cover is a mix of urban land uses (including some light industry), exotic forest, indigenous vegetation and pasture. There are no dairy farms in the catchment and most of the pasture area is in lifestyle blocks, with a handful of small (e.g. c.70ha) beef farms. There are approximately 140 properties over 1.5ha in the Otuihau / Whangārei Falls catchment with land in pasture.
The upper catchment has pine forestry, which was established originally for soil conservation purposes. Harvesting the areas in this catchment has now been completed and the next rotation has been planted. Two main streams join approximately 1km upstream of the Falls. Most of the catchment has relatively gentle rolling or flat contour and streams are mostly shallow and slow flowing, with clay streambeds.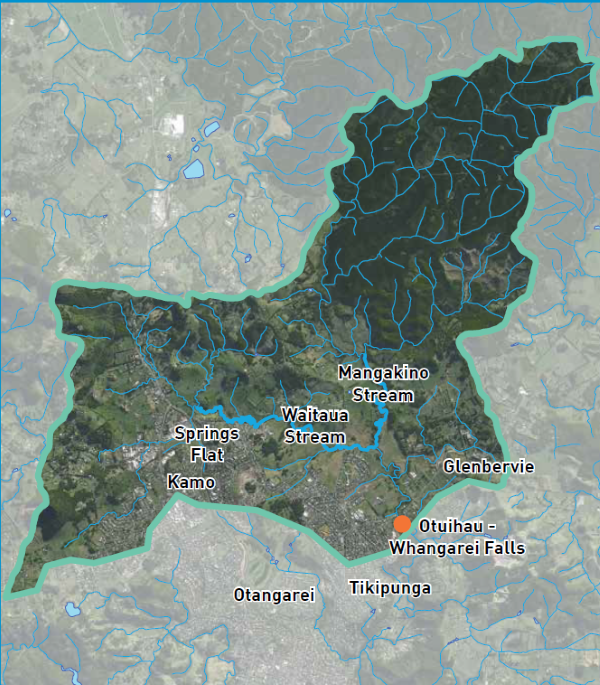 The upper Hātea catchment, above Otuihau / Whangārei Falls
Water quality at Otuihau / Whangārei Falls
Whangārei Falls / Otuihau is a very busy tourism site for Whangārei. It is also a favourite swimming site for locals. Unfortunately, water quality at the Falls is not always as good as we'd like it to be, especially after rain.
The reserve at Otuihau is popular for swimming and picnicking.
The water at Otuihau and three sites upstream of the Falls is tested every month to check what levels of bacteria, sediment and nutrients are in there. Information gathered from this monitoring has been used to help us plan action to help improve the water quality in the catchment. Specialised water testing confirmed that the bacteria in the water at the Falls was mostly from ruminants (animals that chew their cud, such as cattle and sheep) and wild birds.
Water at the Falls is also tested weekly in the council's summer recreational bathing programme. This information is passed on to Whangarei District Council and Northland District Health Board, as well as other interested people in the community. People can check if the water quality is considered clean enough to be able to swim safely, by checking the Land, Air, Water Aotearoa (LAWA) website.
Hātea Catchment / Otuihau Working group
In 2015 Northland Regional and Whangarei District Councils began to focus together on improving water quality at Otuihau. Together we formed a working group which includes representatives from both councils, community groups like Tiki Pride and the Otuihau Community Development Trust, Pehiaweri Marae and Northland District Health Board. We're all working together to raise awareness of water quality issues in the Hātea catchment and how individual people can make a difference.
Read the Otuihau / Whangārei Falls water quality partnership scoping report (PDF, 2MB)
Funding for landowners
After surveying the catchment to see what the main water quality problems were, we found that livestock on farms and lifestyle blocks had access to about 90% of the catchment waterways.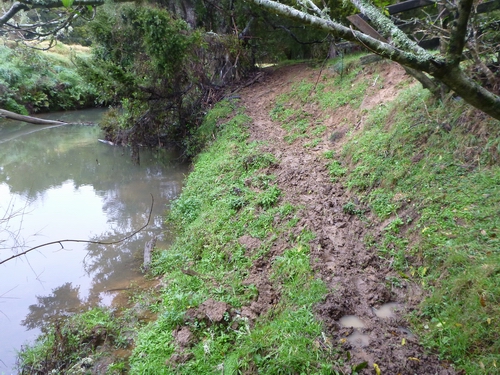 Even without directly accessing the stream, cattle movement alongside the water creates bare soil and muddy areas where sediment can be washed into the water. We aim to get areas like this fenced from stock to reduce sediment and bacteria (from dung) getting into the stream water.
The regional council is now working with many landowners in the catchment to help keep livestock out of the waterways. In March 2017, we received a Community Environment Fund grant from the Ministry for the Environment of $258,000 over three years to add to the existing regional council funding available. With this grant we aim to increase stock exclusion to 70% of streams in the catchment.
We can provide funding to help with fencing and planting waterways and also help with the cost of troughs if needed for stock water.
If you're a landowner in the Hātea catchment, give us a call on 0800 002 004 or find out more about the Environment Fund.
How can you play your part?
We all have a part to play in improving water quality. The simplest of actions can make a difference!
Biodiversity in the Hātea catchment
There are seven areas within the upper Hātea catchment that have been identified within the Department of Conservation protected natural areas programme (PNAP) for the Whangārei ecological district, including the Falls reserve. Several threatened native plant and animal species are found in the catchment. There are also remnants of riverine forest in both the tributary valleys. Riverine forest grows along the edges of rivers and streams, on river floodplains and flats. Vegetation in this type of forest can survive either very wet or dry conditions. It is uncommon in the Whangārei ecological district.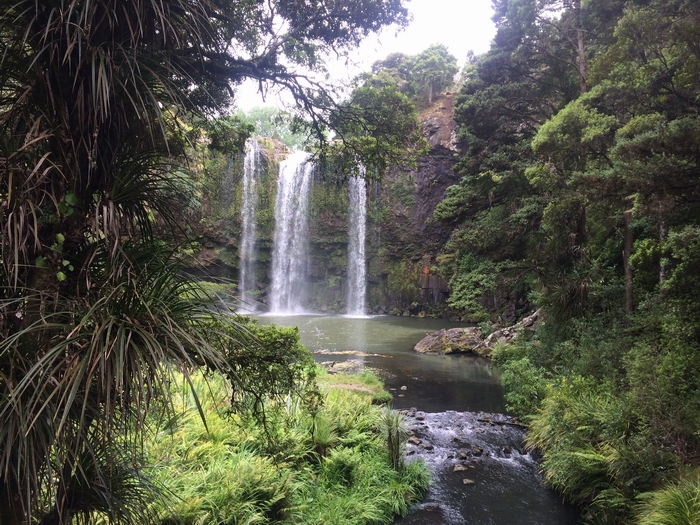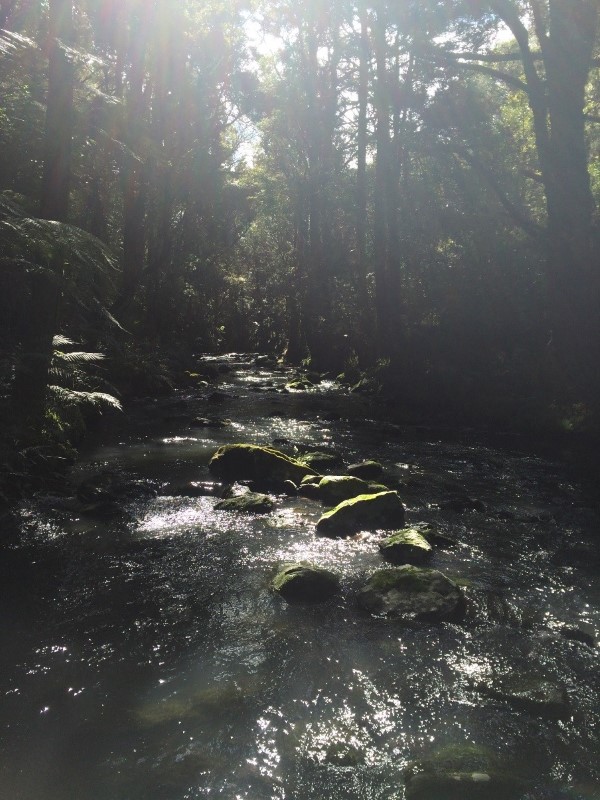 Riparian planting underway in the catchment will help improve biodiversity by increasing the area of riparian habitat for native birds, insects and animals such as lizards. It will also help to shade and cool the water which will be better for freshwater animals and fish living there.