Doubtless Bay
About Doubtless Bay catchment
Located east of Kaitāia in the Far North, the Doubtless Bay catchment is one of the most important recreational areas in Northland and has very high cultural and historical values. The main rivers in the catchment are Te Aurere, Taipā and Oruaiti.
There are high ecological values in many parts of the catchment and Lake Waiporohita is particularly significant as a habitat for aquatic species. Pastoral, agricultural, horticultural and forestry land uses dominate. Surface and groundwater is used primarily for domestic supply, stock drinking and irrigation.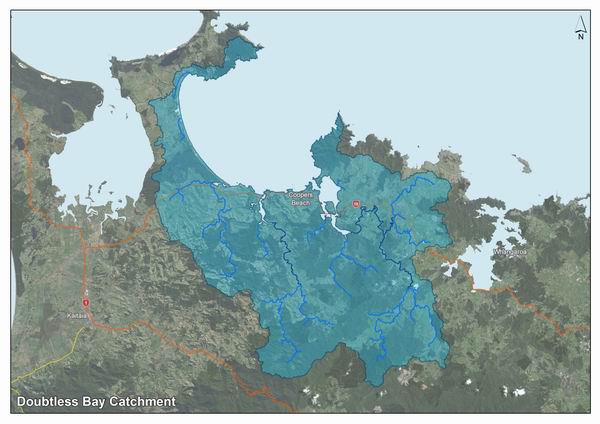 Doubtless Bay catchment group
The Doubtless Bay catchment group was formed in mid-2013 to help determine how Doubtless Bay catchment's freshwater resources should best be managed into the future. The group includes representatives from tangata whenua, forestry, drystock and dairy industries and recreational, community and environmental interests. It also includes representatives from the Department of Conservation and Far North District Council. The Northland Regional Council representative is Councillor Mike Finlayson.
Read the Doubtless Bay catchment working group's Terms of Reference
Talk to your local representative
Part of the catchment group members' role is to liaise with their local community or sector groups to support two-way feedback on management of the Doubtless Bay catchment.
You can get in touch with your local representative via the group's regional council contact person:
Land Management Advisor
Freephone - 0800 002 004 
Email - [email protected]
Catchment plan
The Doubtless Bay catchment group has developed a catchment plan to tailor the way fresh water is managed in the Doubtless Bay catchment. The catchment plan includes recommended regulatory (i.e. rules) and non-regulatory water management measures – regulatory measures can be included in the new Regional Plan while non-regulatory measures will be set out in an implementation plan.
Find the Doubtless Bay Catchment Plan
Hidden Gems - Dune Lakes Videos
Doubtless Bay catchment includes a number of unique dune lakes located on the Karikari Peninsula. Hidden Gems is a three part, 25 minute documentary on the Northland region's very special coastal dune lakes and how we can help look after them for future generations.