If your farm or business is planning changes that may affect freshwater or waterways, you should check what rules apply – even if you haven't needed a resource consent for that work before.
New national rules under Essential Freshwater
The government has created new rules that apply across Aotearoa – these are primarily set out in the National Environmental Standards for Freshwater (NES Freshwater) and Livestock Exclusion Regulations, both of which came into effect on 3 September 2020.
The rules are part of the government's Essential Freshwater package to protect and improve the health of our waterways, which mean some changes for landowners.
Our immediate priority is to better understand where and how the new requirements interact with our existing rules. That task is not straightforward and may take some time, but we'll keep striving to ensure you get the best information we have available.
We're here to help
Below is a summary of what the new rules will mean for landowners. We know it's a lot to take in, and we're here to help.
For more information about the new rules and how they might affect you please call 0800 002 004 and speak to our staff.
What it means for landowners – NES Freshwater
This is an overview of new rules affecting landowners (note that this is not a definitive guide):
Controls on stock holding areas and feedlots – Feedlots and stock holding are limited to younger cattle (no more than four months old or than 120kg in weight) unless the area is impermeable, effluent is collected and disposed of and the stockholding area is 50m away from any waterbody (including drains, bores and the sea). Read the MfE guidance on stockholding and feedlots
Limits on agricultural intensification – Conversion of land to dairy farming, irrigation of dairy land and conversion of forestry to pasture must not exceed 10ha, and there is to be no increase in land used for dairy support. Read the MfE guidance on intensification
Controls on the intensive winter grazing – Intensive winter grazing (grazing livestock on annual forage crops between 1 May and 30 September) must not exceed 50ha or 10% of the farm (whichever is the greater), the mean slope of the paddock must not exceed 10% slope, pugging must not be deeper than 20cm and pugging of any depth must not cover more than 50% of the paddock and livestock must be kept at least 5m from rivers, lakes, drains and wetlands. The land must also be replanted by 1 October. Read the MfE guidance on winter grazing
Open - Intensive Winter Grazing (Subpart 3) of the National Environmental Standards for Freshwater) Regulations 2020 at: legislation.govt.nz
A cap on synthetic nitrogen fertiliser use – Application of synthetic nitrogen fertiliser to pasture must not exceed 190kg / ha /year (as an average over each contiguous landholding and to each hectare of land not used to grow annual forage crops). When used on dairy farm pasture, the dairy farmer must provide detailed records of synthetic nitrogen fertiliser application to the Northland Regional Council by 31 July every year
Restrictions on activities near wetlands, including earthworks, land disturbance, vegetation clearance, water takes, discharges, damming and drainage (see more below).
Controls on structures in rivers (primarily to provide for fish passage) and detailed information requirements to be provided to council (see more below).
Resource consent from the regional council will be required where the NES Freshwater rules or regional plan rules are not met.
Wetlands and rivers
These regulations apply to a wide range of activities (not just farming) – in general terms:
Most earthworks, land disturbance and vegetation clearance within 10m of a natural wetland requires resource consent (although exceptions are made for a limited number of activities such as restoration or research).
Most taking, damming, discharge and diversion of water within 100m of a natural wetland will also require resource consent (unless otherwise stated).
Any activity that results in the complete or partial drainage of a natural wetland is prohibited (no resource consent can be granted) unless otherwise stated.
Reclamation of rivers requires resource consent as do passive flap-gates – there are also detailed information requirements for new weirs, culverts, fords, dams and ramps that must be provided to Northland Regional Council.
Ministry for the Environment has more guidance available:
What it means for landowners: Livestock exclusion
To reduce the impact of stock on waterway health, the government has introduced Stock Exclusion Regulations. More detail of these regulations can be found at: environment.govt.nz/regulations
It means that certain stock will need to be excluded from lakes, rivers[2] wider than 1m and certain wetlands within set timeframes. The regulations have different requirements depending on the type of stock, land slope and waterbody. The government has also created maps of low slope land. Open the low-slope land maps online at: mfe.maps.arcgis.com
Some exceptions are made for livestock crossing rivers and lakes but if livestock cross the river or lake more than twice in any month a bridge or culvert must be used (there are some exceptions for highly mobile riverbeds). All new pastoral systems must comply with the stock exclusion regulations straight away.
A summary is provided in the table below:
| | | | |
| --- | --- | --- | --- |
| Stock type | Freshwater body type | Slope | Date |
| Pigs, dairy cattle | Lakes and rivers >1m | Any terrain | 1 July 2023 |
| Intensively grazed beef and deer | Lakes and rivers >1m | Any terrain | 1 July 2023 |
| All beef, dairy, dairy support cattle, deer and pigs | Wetlands identified in a regional plan | Any terrain | 1 July 2023 |
| Dairy support cattle | Lakes and rivers >1m | Any terrain | 1 July 2025 |
| Beef and deer (non-intensive) | Lakes and rivers >1m | Low slope land | 1 July 2025 |
| All beef, dairy, dairy support cattle, deer and pigs | Wetlands that support a population of threatened species | Any terrain | 1 July 2025 |
| All beef, dairy, dairy support cattle, deer and pigs | Natural wetlands 0.05ha or larger | Low slope land | 1 July 2025 |
New regulations vs regional rules
We also have rules for stock exclusion in our Proposed Regional Plan. Legally, the most restrictive of the two sets of rules applies. The Proposed Regional Plan livestock exclusion rules are set out in section C.8.1 (see page 208) of the Proposed Regional Plan for Northland.
Go to the New Regional Plan page to download the Proposed Regional Plan for Northland – Appeals Version
The main differences from Northland's existing stock exclusion rules (in) are listed below.
The regulations require a 3m setback from lakes and rivers wider than 1m (there's no setback requirement in our regional rules). Existing fences can remain within 3m until replaced. See below for illustrations of where the setback is measured from
Our maps of "low slope" land are different – it includes artificial watercourses (such as drains), the coastal marine area and smaller rivers.
Our definition of a waterway is broader – it includes artificial watercourses (such as drains), the coastal marine area and smaller rivers.
New rules for winter grazing – our regional rules don't cover winter grazing.
Site-specific rules in Northland apply above registered drinking water supplies, Inanga spawning sites and some popular swimming sites.
Regional rules apply slightly earlier in some cases and treat dairy support cattle the same as beef cattle and deer.
The wetland rules are different – the regional rules apply to wetlands larger than 2000m2, while the national regulations apply to wetlands over 500m2 in low-slope areas.
Note: The Proposed Regional Plan stock exclusion rules are under appeal and may be subject to changes.
We recognise it's complicated, so if in doubt please get in touch with our team: 0800 002 004.
Guidance on the livestock exclusion regulations is available on the Ministry for the Environment website.
3m buffers for stock exclusion
The photos below illustrate where the three-metre buffer strip would be measured from for rivers wider than 1m and lakes.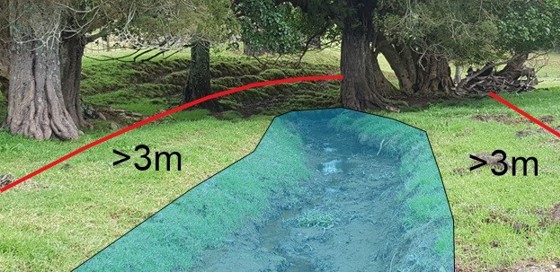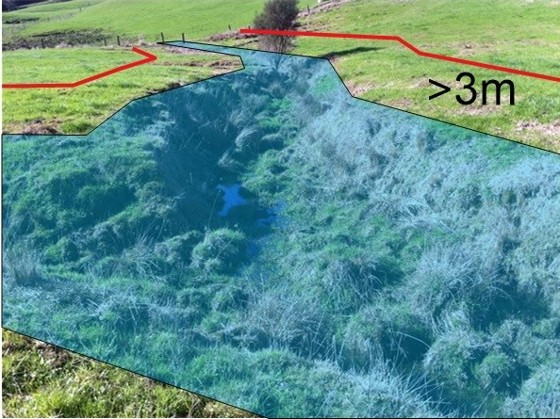 Overlap between national rules and regional rules
In many cases the new national rules overlap with existing rules in the Proposed Regional Plan (which includes rules for livestock exclusion and activities affecting wetlands). Where this is the case the most restrictive of the rules applies.
In reality, the differences are sometimes quite complex. We're working on more guidance to help landowners understand and interpret which rules apply and hope to have that available in early 2021.
We understand this is complicated and encourage you to get in touch with us on 0800 002 004 to interpret the rules.
---
[2]river means a continually or intermittently flowing body of fresh water; and includes a stream and modified watercourse but does not include any artificial watercourse (such as an irrigation canal, water supply race, canal for the supply of water for electricity power generation, and farm drainage canal).
---