Climate change is causing a rise in sea levels across the globe. With our extensive coastline and numerous coastal communities, this will mean big changes for Northland into the future.
Over the past 100 years, around 20cm of sea level rise has occurred, at an average rate of 2.2mm per year in Northland. However, recent estimates of sea level rise are up to 3.6mm per year (REF) and are expected to approach 10mm per year in coming decades.
While rates of sea level rise are dependent on how quickly global greenhouse gas emissions are reduced, an amount of sea level rise is 'locked in'. This means Northland communities will experience increasingly high water levels over the coming decades.
Sea level rise projections used for Northland Regional Council's coastal hazards assessments were based on the Ministry for the Environment (2017) Coastal hazards and climate change – a guide for local government. In line with the guidance, a high-emissions scenario (RCP8.5M) was used for all coastal erosion (CEHZ) and coastal flood hazard zones (CFHZ), with the exception of CEHZ3 and CFHZ3, which use an extreme emissions scenario (RCP8.5H+).
| | | |
| --- | --- | --- |
| Timeframe | Sea level rise | Emissions scenario |
| 2080 | 0.6m | High |
| 2130 | 1.2m | High |
| 2130 | 1.5m | Extreme |
Four scenarios of New Zealand-wide regional sea-level rise projections for use with this guidance, with extensions to 2150 based on Kopp et al (2014)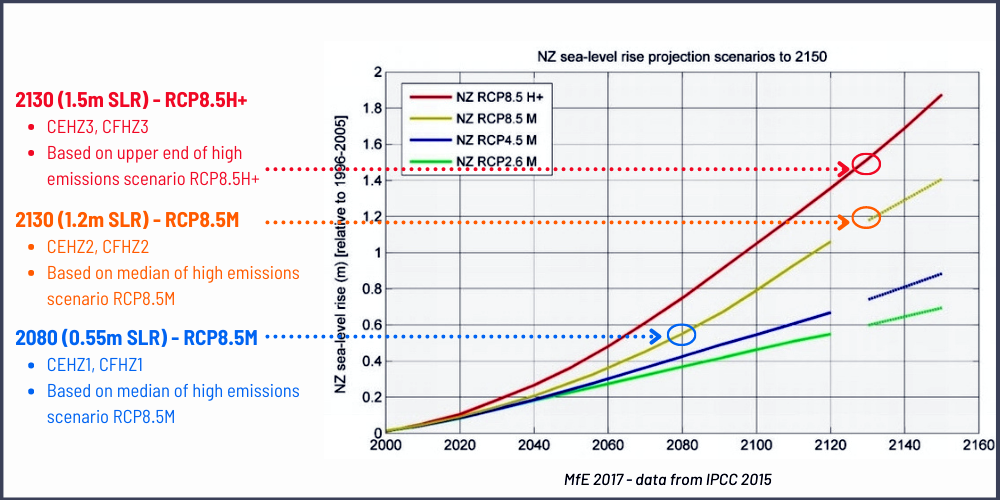 New Zealand scenario trajectories are out to 2120 (covering a minimum planning timeframe of at least 100 years), and the NZ H+ scenario trajectory is out to 2150 from Kopp et al (2014) (K14). No further extrapolation of the Intergovernmental Panel on Climate Change-based scenarios beyond 2120 was possible, hence the rate of rise for K14 median projections for RCP2.6, RCP4.5 and RCP8.5 are shown as dashed lines from 2130, to provide extended projections to 2150. Note: all scenarios include a small sea-level rise (SLR) offset from the global mean SLR for the regional sea around New Zealand.
(Source: Coastal hazards and climate change: Guidance for local government - mfe.govt.nz)
Ministry for the Environment Guidelines
Preparing for coastal change: A summary of coastal hazards and climate change guidance for local government - www.government.govt.nz