Coastal flooding – including storm surges – is a risk to low-lying coastal communities, and climate change is expected to increase the frequency and severity of coastal floods. With good information and planning, we can work together with communities to reduce the risks.
What is coastal flooding?
Coastal flooding (also known as coastal inundation) occurs when low lying areas become submerged under sea water.
Coastal flooding often occurs when very high tides combine with:
storm surge (a temporary rise in water level due to a large storm event)
large waves or swells.
Sea level rise due to climate change is likely to increase coastal flooding in many areas. In places this will mean more frequent and severe impacts. Some very low-lying coastal areas may become permanently inundated at high tide.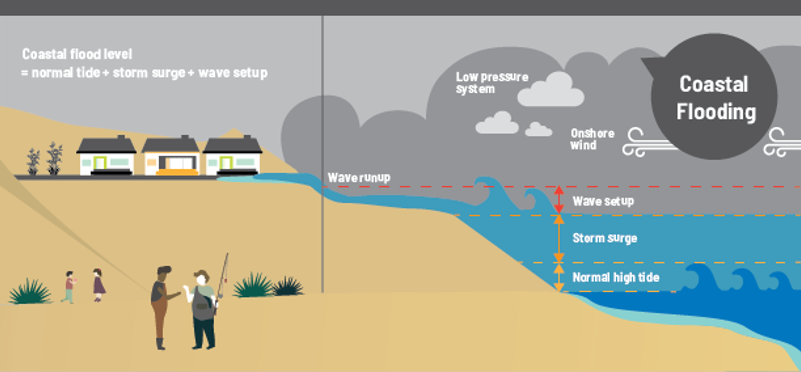 Understanding coastal flood hazards in Northland
We need to understand the impacts of coastal flooding on our communities to be able to guide appropriate development, manage risk and adapt to the future impacts of climate change.
Coastal flood hazard maps identify coastal areas subject to coastal flooding due to storm events, taking into account sea level rise over 50 and 100 year timeframes. The maps consider a range of attributes to come up with projections of extreme water levels around Northland's coastline.
Evidence considered includes:
Tide gauge data
Storm surge (occurs due to low pressure and winds during storms)
Climate variability (El Nino and other multi-decadal cycles)
Long-term sea level rise
Wave data
Storm climatology
Historic data on storms in Northland
These water levels are then mapped to a high-resolution topographic model of the coast to give four different coastal flood hazard zones (CFHZ).
Coastal flood maps
Disclaimer
Read the Coastal Hazard Maps disclaimer (PDF, 139KB)