While coastal erosion is a natural process, it's likely to worsen over time thanks to climate change effects. We need to manage this hazard carefully to protect our coastline's future and keep communities safe.
What is coastal erosion?
Our coastlines are always changing. Open coasts and beaches can change rapidly following storms, whereas rocky shores erode more slowly. Some shorelines show signs of receding over long timeframes, whereas others accumulate sediment.
Coastal erosion is the sudden or gradual loss of land due to various coastal processes.
Northland's east and west coasts vary in their exposure to erosion, with the many sandy bays and beaches of the east coast having limited sediment supply but are generally well-protected from large swells. In contrast, the west coast has a large supply of sand flowing north but is exposed to heavy ocean swells.
Projected sea level rise and increase in storm events is likely to worsen long-term coastal erosion. With much of Northland's coastal development close to the sea, this growing hazard will need to be carefully managed.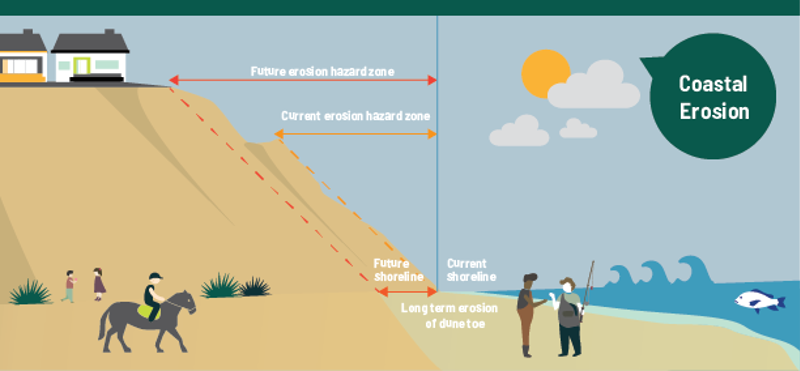 Understanding coastal erosion hazards
Northland Regional Council has analysed and mapped coastal erosion hazards around Northland to better understand impacts into the future.
The maps provide a visual tool for the council and Northland's communities to tackle and adapt to the risks posed by coastal erosion and are in line with central government legislation.
The maps take into account several aspects of coastal processes to come up with an evidence-based projection of where the coastline may be in 50 or 100 years. This includes:
The geology and geomorphology of the coast, including land movement and transport of sediment
Historic coastline maps
Water levels such as storm surges, tides and sea level rise
Wave data including data on wave conditions during storms
Areas at risk are mapped as one of four 'coastal erosion hazard zones' (shortened to CEHZ) The scientific methodologies involved in the projections can be accessed in the technical report (link below). Due to the involved nature of assessments, erosion is assessed at a total of 40 individual sites, with reports for each site also available.
Disclaimer
Read the Coastal Hazard Maps disclaimer (PDF, 139KB)