24 January - climate report
25 Jan 2017, 12:07 PM
Current situation
The weekend rain event of 21 and 22 January provided a small interlude to the dry weather experienced through December and January so far. Much of this rain fell on the east coast of the Far North and around the Hokianga Harbour, with stations in the Whangārei and Kaipara districts recording far less rain. Rainfall at many of these stations remain below the long term median for January.
Flows in many of the waterways around the southern half of the region remain low, reflecting the low overall rainfall experienced for the months of December and January to date. Some of these remain below, or close to design drought flows.
Following such dry conditions experienced in December, soil moisture to 22 January remains below average for much of Northland, excluding Kaitāia.
Rainfall
In some parts of the Far North, recorded rainfall totals for January are at or above expected January rainfall totals based on recorded long term medians. The highest rainfall over this event was recorded at Touwai (Whangaroa) with 90.5mm. Rainfall throughout most of Northland, particularly in the Whangārei and Kaipara districts remains significantly below what would be expected in January based on long term monthly medians, with around 20-30mm recorded at stations in these areas (Figure 1 and Table 1 below).
River flows
Flows at most monitoring stations in the region experienced a small to moderate increase from this rain event. However, flows in many waterways south of Whangārei and west towards Dargaville remain low and without further rain will continue to display a downward trend. Most rivers in the region will be back to the level recorded before this rain event within the next two weeks with no further rain.
Soil moisture deficits
Soil moisture at all NIWA recording stations except Kaitāia remain below average for this time of year, with 100-125mm deficits. These deficits are expected to continue to decline through the remainder of January. Typically soil moisture levels bottom out through December and January, beginning to rise around February.
Figure 1
Map – Recorded Rainfall for 19 – 22 January 2017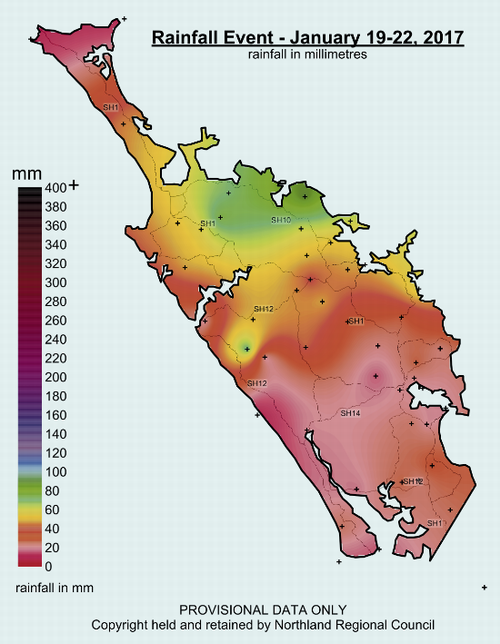 Table 1
Rainfall to 23 January in comparison to long term January median values
(note that gaps in median values represent insufficient data for the calculation)
Site Name

Rain event
21-22 January

Total as of
23 January

Median

% of expected rain

Waihopo at Kimberley Road

45.5

49

65

75

Oruru RG at Bowling Club

70

72.5

53.4

136

Tarawhataroa at Larmer Road (Kaitaia)

52.5

65.5

37.1

177

Takahue at Te Rore

58

66

75.5

87

Te Puhi at Mangakawakawa Trig

75.5

66

98.5

67

Kaeo at Bramleys

62

64

58

110

Touwai at Weta

90.5

95.5

70.9

135

Kerikeri at BOI Golf Club

53

53.5

Rotokakahi at Kohe Rd

48

58.5

61.5

95

Waitangi at Ohaeawai

39

42

93.2

45

Waitangi at Wiroa Road

51

59.5

42.1

141

Waitangi at McDonald Road

47.5

51.5

65.4

79

Veronica Channel at Opua Wharf

49

53.5

51.4

104

Otiria at Ngapipito

48.5

52.5

Whawharu at Topu B Taheke

50.5

69

90

77

Hokianga Harbour at Omapere/Opononi

20

31.5

45.4

69

Waimamaku at Weka Weka Road

73

107.5

152

71

Mangakahia at Twin Bridges

42

43.5

74

59

Oakura Bay at Te Kapua Street

58

58.5

77.8

75

Waiharakeke RG at Okaroro Road

30.5

32

104

31

Whakapara at Puhipuhi

28

33.5

85.7

39

Okarika at Rowland Rd

22

24

78.3

31

Hatea at Glenbervie Forest HQ

27.5

31

77.8

40

Ngunguru at Dugmores Rock

22.5

25

82.7

30

Waipao at Draffins Rd

17

17

30.6

56

Waiarohia at NRC Water St

21.4

22.2

72.8

30

Otaika at Cemetery Road

21

22.5

121

19

Whangarei Harbour at Marsden Pt

19.5

19.5

94

21

Waikokopa RG at McDonnell Road

24

27.5

Waiwarawara Rain at Wilsons Dam

20

21

Waihoihoi at Brynderwyn

30.5

31.5

65.6

48

Waima at Tutamoe

20

42.5

94.6

45

Kai Iwi at Kai Iwi Lakes

11

24

86

28

Dargaville at Climate (NIWA)

19.8

23.6

86

27

Awaroa at Wallace Road

18.5

21

54

39

Paparoa at Maungaturoto

22.5

25

61.5

41

Paparoa at Taylors

27

28.5

Okoraka at Ngatawhiti Road

24.5

32

Kaipara Harbour at Pouto Point

16.5

20

63.9

31

Hakaru at Topuni Creek Farm

25

25

90

28
Outlook
The MetService has advised that the current dry conditions may prevail through January, February and possibly March. The high pressure systems over New Zealand have been sitting at higher latitude than normally seen at this time of the year. This has resulted in an increase in winds from the west and south west. Fronts of rain coming from these directions have dissipated just south of Northland. Low pressure systems from the north have been pushed to the east by the large stationary high pressure systems. To date the low pressure systems that normally develop off the Australian coast have been non-existent.
The current weather pattern does increase the chance of a deep low forming north of New Zealand; the timing will determine if it can penetrate the high pressure system to reach Northland.