Fencing stock out of waterways
Water quality in our rivers, streams and coastal areas is important to all of us. By keeping your stock out of our waterways, you make an important contribution to the improvement of water quality in Northland.
Fencing off waterways, wetlands and coastal areas to prevent access by grazing stock is one of the most effective water quality improvement measures that can be implemented on farm. An ungrazed margin along the banks of waterways has the ability to filter contaminants such as sediment and effluent from paddock run-off. Preventing stock access to these areas also helps to maintain the integrity of banks and reduces sediment and other pollutants entering waterways.
To be effective, the riparian fence needs to be on the outside of any bush or tree line that might shade the river. Contrary to popular belief, the shaded area under trees is often not an effective sediment filter, unless there is an established ground cover under the trees.
Remember that once stock are removed from waterways, the riparian margin created by your fence will need some on-going maintenance.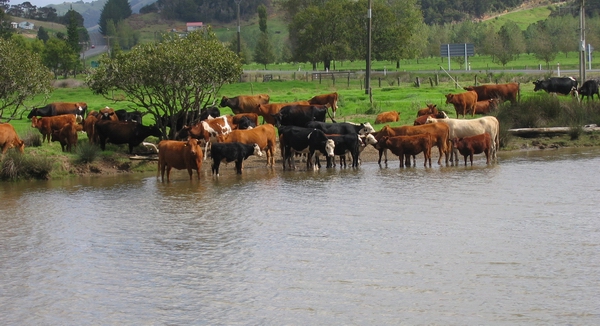 Stock grazing in the tide causes environmental damage and pollutes waterways.
Stock browsing and pugging
Damages native plants, saltmarsh and other estuarine and harbour edge vegetation;
Crushes crabs and shellfish and disturbs whitebait breeding grounds;
Damages eel grass beds, which are habitat and breeding grounds for native fish;
Can spread weeds; and
Adds sediment and phosphorus from pugging and bank erosion, which reduces water clarity and increases algal blooms.
In freshwater areas, stock browsing and pugging:
Removes riparian vegetation, which reduces its filtering effect on paddock run-off; and
Adds sediment and phosphorus from pugging and bank erosion, which reduces water clarity and increases algal blooms.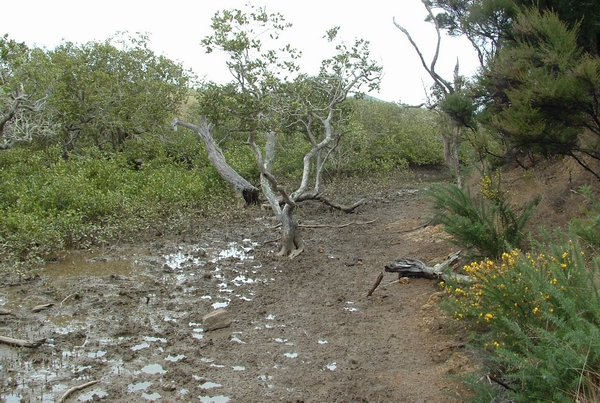 Pugging on coastal margin.
Animal waste (dung and urine)
Animal wastes contain viruses and bacteria, which build-up in filter-feeding shellfish and can endanger local food gatherers and recreational users. It can impact on the aquaculture industry and on other downstream water users (human and animal) that all rely on clean water.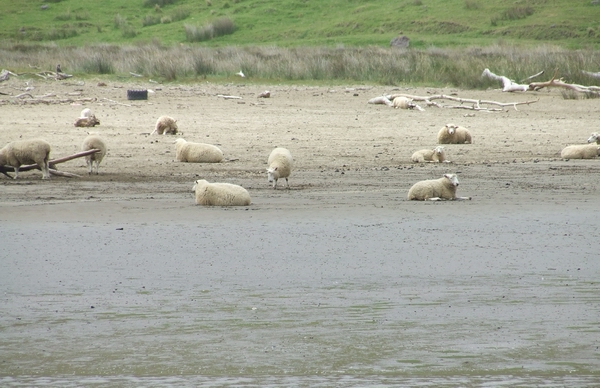 Rules about stock access to water
Coastal marine area
To help protect our important coastal marine areas, Northland Regional Council rules require farmers to keep their stock out of the tide.
Under regional council rules, farmers must keep their stock out of Northland's 'coastal marine area'. This is the area below the mean high-water spring tide mark – often recognised by the highest line of seaweed and driftwood on the beach – plus certain areas of tidal streams and rivers.
The stock exclusion rule aims to protect the coastal marine area's ecological health and water quality from the adverse effects of browsing, pugging and animal effluent.
In many areas, there are natural obstacles to stop stock from getting into coastal marine areas. If there's no natural obstacle you will need to put up some form of fencing or other barrier.
Freshwater
In the Proposed Regional Plan for Northland, there are new rules around stock access to fresh waterways. It is an offence under the Resource Management Act (RMA) to discharge contaminants to water. The Northland Regional Council and farming industry bodies are working with landowners to remove stock access to rivers, streams, drains and wetlands.
Other benefits of excluding stock
As well as improving water quality in our region, fencing stock out of waterways can improve your stock management and health (for example, by reducing stock losses and access to waterborne diseases).
Options for excluding stock
There are different ways to exclude your stock, and the council's land management advisors can help you determine the best option for your situation.
Our land management staff can offer technical advice to landowners. If a fence is needed, the type of fencing required will depend on factors such as terrain, stock type, permanence of fence, and building and material costs – we can help you weigh up the options.
Funding contributions towards fencing stock out of our waterways may be available through the council's Environment Fund.
Want more information?
For more information check out the 'Clean Streams - guide to riparian management'.