Working to care for Northland's biodiversity
Our native flora and fauna in Te Taitokerau is a taonga. Working together we can protect and preserve it for today and for future generations.
We are one of the organisations whose job it is to maintain and protect our native biodiversity, but we certainly can't do it alone.
Many people and communities, including farmers and landowners, are actively working to restore biodiversity on their land. They are making a real difference through their actions and we're working to support them.
What support can I get?
If you'd like help to protect biodiversity on your land, we can support with:
Free advice and information on biodiversity, biosecurity and land management
Environment Fund grants for fencing bush, wetlands and waterways
Biofund grants to do pest control to protect native species
Biodiversity advice
Connecting you with others working in this space.
Fenced bush blocks can provide habitat for native species. Fencing these areas improves stock management and makes it easier to manage pasture with strip grazing. Bees and earthworms provide pasture pollination and improve soil fertility.
Why does biodiversity matter?
It's part of who we are. Nature underpins our identity and wellbeing, from calling ourselves kiwis to the silver fern on our sport shirts, and our pride in the pristine and spectacular land and seascapes we call home. We treasure the recreation available to us be it tramping, fishing, biking or swimming.
It's critical to our survival. Nature provides us with services that are crucial to our survival such as plant pollination; climate stabilisation; flood mitigation; water purification; erosion control; shelter and shade, soil formation as well as our freshwater; food; medicines; wood and fibre.
The economy is a subset of the environment. Much of our economic income is derived from farming, forestry and tourism. All of these industries rely on nature - soils, fresh water, a stable climate and the great outdoors. Without a healthy, resilient and diverse environment we won't have a healthy, resilient and diverse economy.
Our biodiversity is in decline. Biodiversity in New Zealand continues to decline due to introduced predators and habitat loss. More than 3,000 native species are classified as threatened or at risk and around 800 of these species face the risk of extinction.
Since humans arrived in Aotearoa, more than 75 birds have become extinct¹ and two-thirds of New Zealand's forest has disappeared. The trend is one of continuing decline, as the extinction risk has worsened for 86 land, freshwater and marine species in the past 15 years. The NPS-IB aims to stop this decline with the support of landowners across the country.
¹New Zealand's Threatened Species Strategy. Department of Conservation 2017.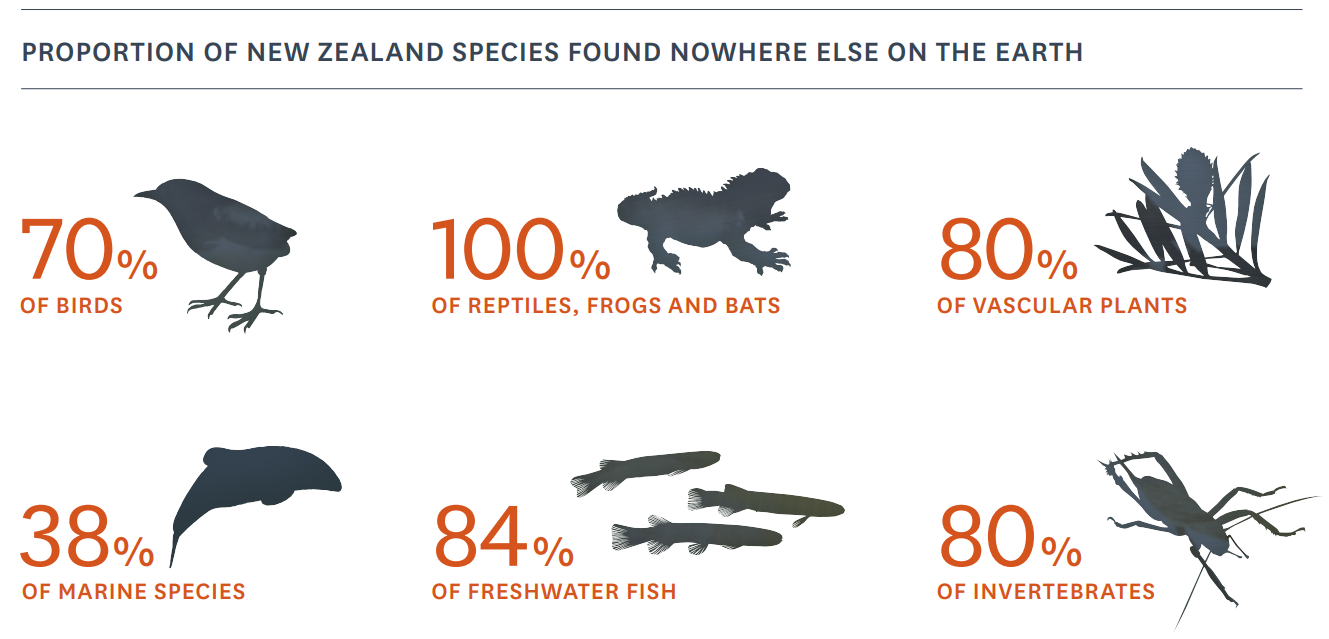 Image source: Draft Threatened Species Strategy (DoC). 
Lakes
Northland has more than 400 dune lakes, found within old sand dune systems mostly on the west coast. Dune lakes are one of the rarest and most threatened aquatic habitats in the world. The lakes are grouped on the Aupōuri, Karikari and Poutō peninsulas, as well as the Kai Iwi group north of Dargaville. They are often dynamic, with fluctuating water levels and shorelines that are frequently changed by shifting sand dunes.
Find out more about our freshwater lakes and watch the "Hidden Gems" 3 part video series
Wetlands
The term 'wetland' covers habitats where the land is covered in, or saturated by, water for at least some of the time.
Wetlands occur in areas where surface water collects or where underground water seeps through to the surface. There are many different kinds of wetland, including swamps, bogs, marshes, gumlands, saltmarshes, mangroves and some river, lake and stream edges.
All wetlands reduce the effects of floods and improve water quality. Fenced wetlands reduce stock losses.
Find out about the different types of wetlands we have in Northland and why they are important
Bring back natives
Bringing back our native plants and animals helps to restore our biodiversity.
Biodiversity is the combination of all living things in a place. It includes birds and insects, microbes, fungi and plants, people and their pets, and even farm animals.
Because many new species have been introduced (such as possums and wild ginger), the native birds and plants that make our region so special are becoming rarer. This is known as biodiversity loss.
Everyone can do something to help protect our native biodiversity, whether it be as simple as keeping your cat indoors during the day or planting natives and trapping pests.
The Auckland green gecko is under treat from habitat clearance and increasing predation pressure from pest species.
Actions you can take
Control pest animals
Possums chomp their way through thousands of tonnes of native forest and also eat birds' eggs and insects. Rats and mice are big predators of native wildlife and the food they eat. Where pest animal numbers are reduced by using traps or poison, bird numbers soon recover and the health of our forests improves.
Find out more: Pest Control Hub
Plant natives
Native plants provide homes and food for our birds, lizards and insects. Some native plants, like kowhai, flower at the time native birds, like tui, need extra energy for their breeding season. That's why you see tui drinking the nectar during spring.
Find out more:  Get our Northland native plant guide from our resource library
Remove pest plants
There are 35,000 introduced plant species in New Zealand, but only 2,000 native plant species. We can all do our bit to give our native plants a better chance of survival by removing pest plants and weeds.
Find out more: Pest Control Hub
Restore wetlands and streamsides
Wetlands provide a habitat for native plants and animals and can also make your property more attractive and improve your water quality.  Fencing and planting your streamsides, also known as riparian margins, can also have substantial benefits for you and the environment.
Find out more: Go to information about Looking after your wetland | Go to the Clean Streams - A guide to riparian management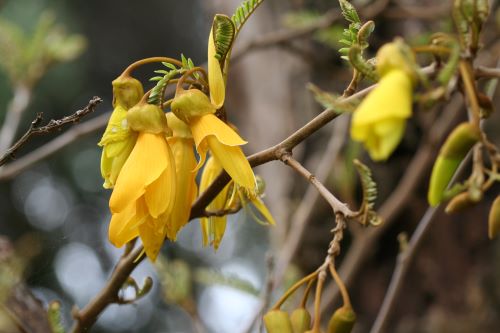 Kowhai provide nectar for birds like the tui during spring.
National policy to protect biodiversity
The Draft National Policy Statement for Indigenous Biodiversity (NPS-IB), which was released by the government in late 2019, sets targets and guidelines to ensure indigenous biodiversity on both public and private land is maintained in New Zealand.
It recognises the critical role of landowners as guardians, kaitiaki and managers of nature and biodiversity. The NPS-IB stresses the need to balance economic, social and cultural wellbeing along with maintaining biodiversity for today and future generations.
Find out more about the National Policy Statement for Indigenous Biodiversity on the Ministry for the Environment's website: www.mfe.govt.nz 
Addressing New Zealand's Biodiversity Challenge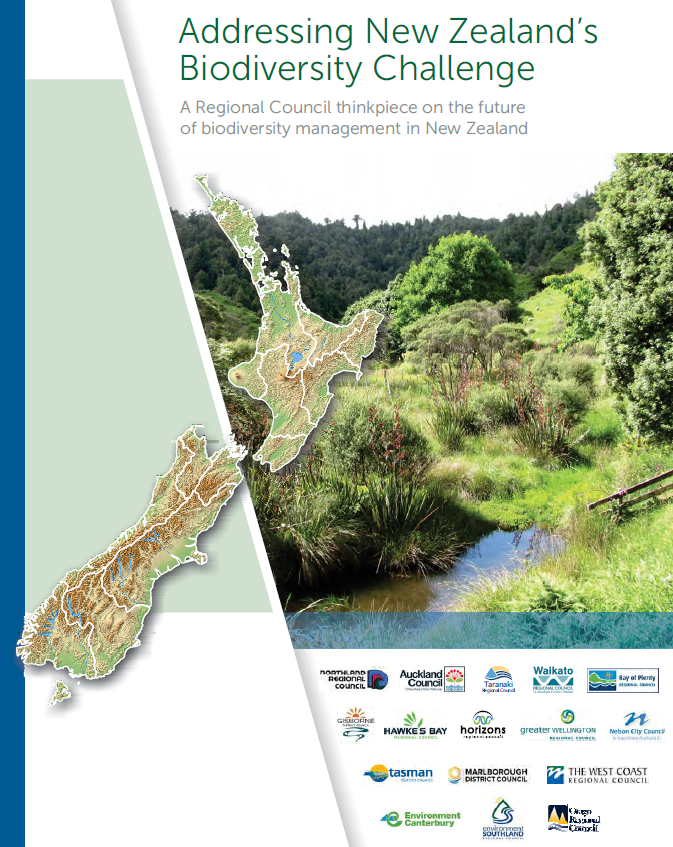 Our native flora and fauna does much to define us as a nation and the time is right to tackle the big questions around its future management. Good progress is being made in some areas, aided by effective new technology and greater public, corporate and philanthropic attention to and investment in the environment. But business as usual will not be good enough if we are to maintain our unique indigenous biodiversity.
Our biodiversity is special; we want Northlanders to recognise, take pride in and assist in looking after it. It would be great to stop the increase in the number of threatened plants or animals.
Biodiversity thinkpiece summary - Five recommendations for change (PDF, 644KB)
Addressing New Zealand's Biodiversity Challenge - A Regional Council thinkpiece (PDF, 6.5MB)