April 2017 - Climate report
23 May 2017, 10:49 AM
Summary of current situation
Another very wet month for region and busy time for the Hydrology team, with the remnants of Cyclone Debbie hitting Northland during 4-5 April, still packing quite a punch, causing minor flooding across the region. The following week 12-13 April Cyclone Cook headed down from the tropics, Northland dodging a bullet, as the system did not deepen and tracked further to the east then the models predicted.
Typically, one cyclone passes within 500km of the New Zealand coast every year, for a system to make landfall and track down the country was quite significant. The tropical waters around the equator took longer than normal to heat up this year resulting in a late start to the cyclone season. Historically late cyclone seasons result in a higher number of cyclone events.
Outlook
The MetService have advised a cold start to May followed by an unusually warm second half, with large high pressure systems sitting over the country for longer. With westerly fronts sneaking in between the dominating highs.
Looking out to Winter the climate models are leaning slightly towards an El Nino developing in the coming months, the model results for this time of the year have a higher degree of uncertainty.
Rainfall
During April Northland received well over the expected monthly rainfall total, up to 250% more than is considered typical of April based on long term median rainfall.
The Waipao, Oakura and Ngunguru catchments all received around 150mm of rain from ex tropical cyclone Debbie, which took Waipao's monthly rainfall total to over 400% of the expected amount for April. Due to the wet conditions prior to the event, numerous slip recorded along the east coast, one resulting in a road closure on the Tutukaka coast.
April rainfall maps
Figure 1 : Monthly rainfall total Figure 2 : Monthly rainfall compared to monthly median rainfall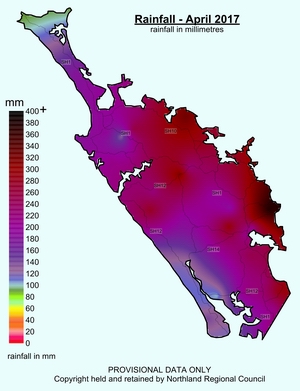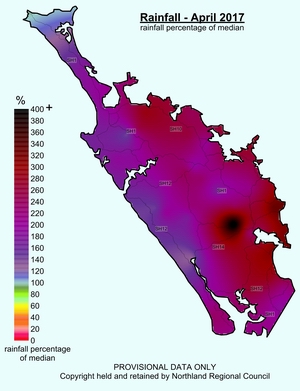 River flows
As expected flows for April were above average for most of the region, with recorded river flows through much of the region in excess of 200% of "typical" flows for April.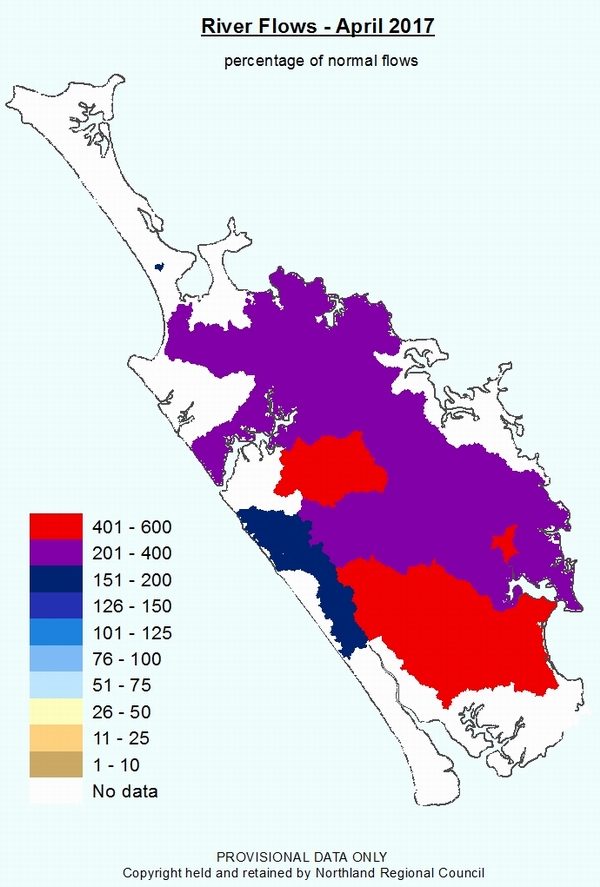 Groundwater
Groundwater levels are responding to the two wet months, with some systems well above the normal water levels observed in May. This is highlighted in the graph below displaying the Poroiti Springs system, the previous two years show low recharge in the winter periods, if the current water levels continue to rise, the system will be in a good position heading into summer.
Refer to the graph below, the colors indicate:
Black line - actual water level
Red line - average/ expected water level
Yellow - normal range 90th percentile
Grey - extreme range 10th percentile
Poroti West at Poroti Groundwater Station