March 2017 - Climate report
31 Mar 2017, 10:32 AM
Summary of current situation
Periods of heavy rainfall between 7 and 12 March bought an end to the drought conditions experienced throughout Northland from January. Due to this rain event, most areas in the region experienced rain in excess of 150% of the long-term median for March, with areas such as Aupouri Peninsula and Maungaturoto receiving over 400% of the long-term median. Groundwater systems have begun to increase in response to the wet conditions and soil moisture is above the mean for this time of year at all sites.
Outlook
MetService have advised that there is considerable potential for extreme rainfall this week, with blocking high pressure to the south and east of the country prevailing into week two of the month. This is likely to cause above normal rainfall totals for April, with most rain occurring in the first two weeks of the month.
Rainfall
During March the whole of Northland experienced rainfall well in excess of what would be considered typical of March based on long term median rainfall (Figures 1 and 2). This is due to the high rainfall that occurred during the 7 to 12 March rain event, during which 341mm was recorded in the Waitangi catchment at Wiroa Rd, and in excess of 200mm recorded at a number of other stations (Figure 3). Much of this rain occurred as intense, short duration downpours in scattered areas at any one time. This is reflected in the annual recurrence intervals for 1 hour and 2 hour intensity, which were quite high in some parts, particularly in the Waitangi catchment (100 year rain event for 1 hour rain intensity) (Figure 4).
As a percentage of what we would expect at any sites in March, both our gauges at Houhora on the Aupouri Peninsula and Maungaturoto in the south scored over 400%. These were followed by Twin Bridges in the centre of the region and our Kaitaia gauge. Nearly all parts of Northland were in excess of 150% of the long-term median (Figure 2).
March rainfall maps
Figure 1 : Monthly rainfall total Figure 2 : Monthly rainfall compared to monthly median rainfall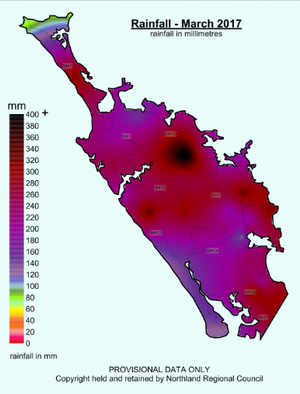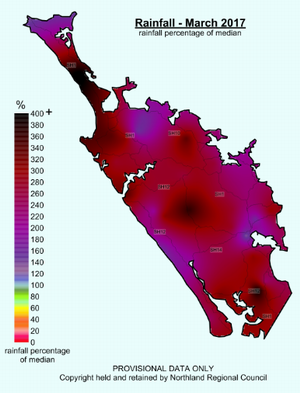 March 7-12 rain event rainfall maps
Figure 3: Rainfall totals during 7-12 rainfall event Figure 4: ARI for 1 hour intensity data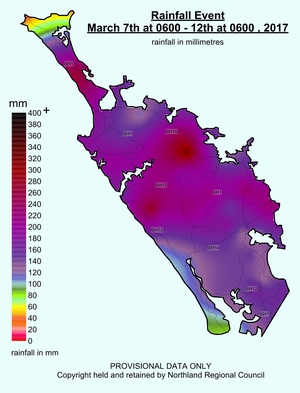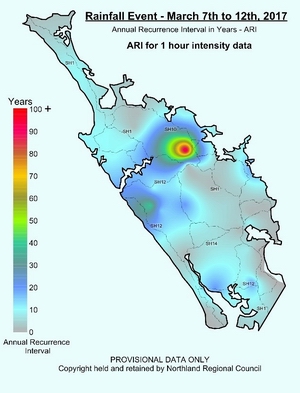 River flows
Flows for March were above average for most of the region, with recorded river flows through much of the region in excess of 200% of "typical" flows for March (Figure 5). High river flows were associated with the 7 - 12 rain event, which caused some minor flooding of farmland and roads.
Figure 5: March flow map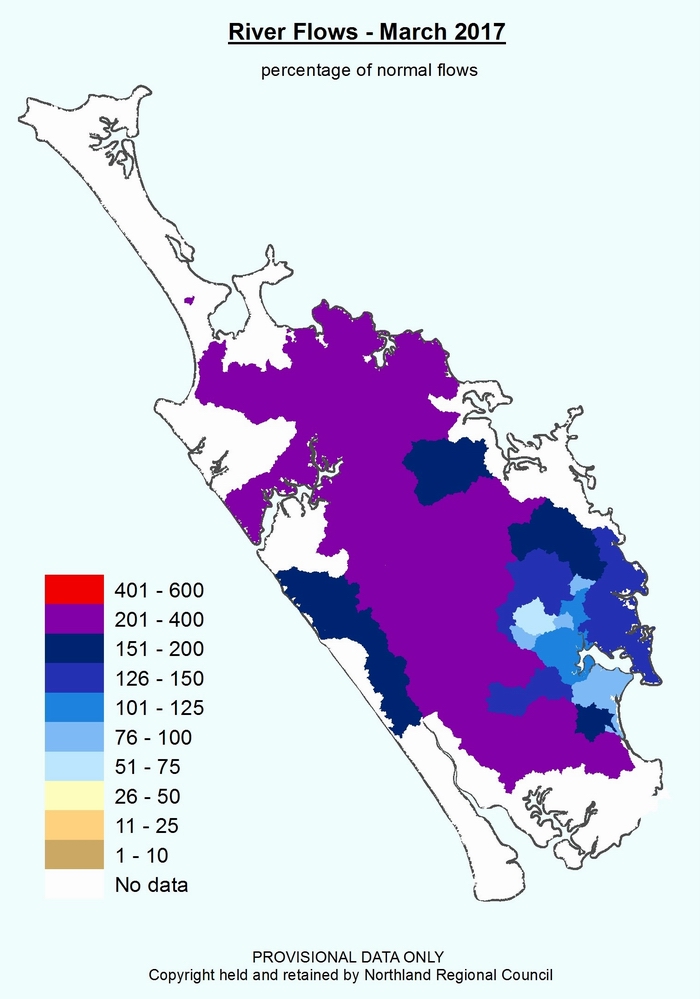 Groundwater
Aquifer levels that were recorded as being low during January and February have begun to increase. The Whangarei and Ruawai systems that were noted to be particularly low during February are increasing, with Rauwai now above the mean water level for this time of year and Puriri Park (Whangarei) heading towards the mean (Figures 6-7).
Refer to figure 6 & 7 below, the colors indicate:
Black line - actual water level
Red line - average/ expected water level
Yellow - normal range 90th percentile
Grey - extreme range 10th percentile
Figure 6: Puriri Park at Maunu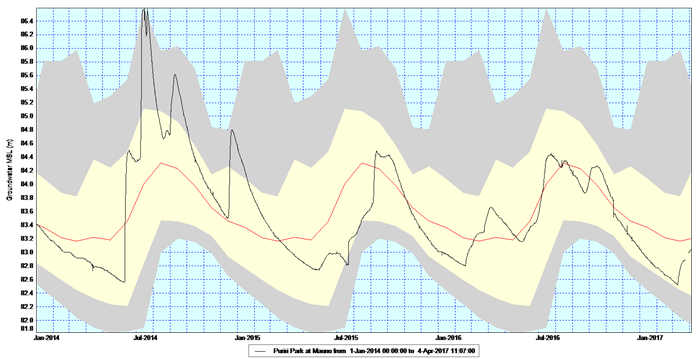 Figure 7: Ruawai at Wallace Road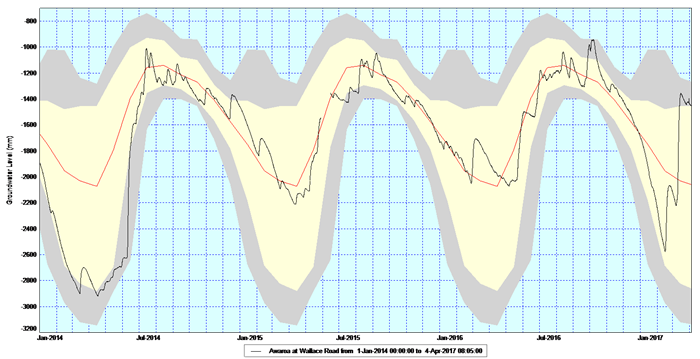 Soil moisture deficits
Soil moisture deficits are now above mean for this time of year at all sites, with deficits ranging from -50 to -5 (Table 1), compared to -137 to -75 last month. Higher moisture content mostly the result of high rainfall from the 7-12 March.
Table 1: Northland Soil moisture deficits (NIWA Climate Stations)
| | |
| --- | --- |
| NIWA Climate Station | Current Soil moisture deficit (mm) |
| Kaitaia | -30 |
| Kaikohe | -5 |
| Kerikeri | -30 |
| Dargaville | -50 |
| Whangarei | -5 |
| Warkworth | -5 |