Mid-January 2017 - climate report
19 Jan 2017, 2:31 PM
Current situation
The Northland region is currently experiencing a prolonged dry period due to low rainfall since December 2016. The Far North and the east coast from the Bay of Islands down to Managwhai is very dry.
Most rain gauges recorded 20 to 40mm of rain, which was less than half of the expected totals for December 2016. The lowest recorded was 11mm at the Kerikeri gauge at the Bay of Islands golf club, followed by the Mardsen Point gauge at the oil refinery, which recorded 14mm of rain, both are the lowest amounts observed for the month of December since records commenced.
Most rivers across the region have reached mean annual low flow, with a few reaching drought flows. Catchments in the Bay of Islands, Bream Bay and Kaihu, are reaching flows last observed during the 2010 drought.
The following areas of Northland are starting to experience dry conditions:
Far North
Kaikohe
Bay of Islands
Whangārei
Bream Bay
Hokianga
Dargaville
Ruawai
Paparoa
Outlook
The MetService has advised that the current dry conditions may prevail through January, February and possibly March. The high pressure systems over New Zealand have been sitting at higher latitude than normally seen at this time of the year.
This has resulted in an increase in winds from the west and south west. Fronts of rain coming from these directions have dissipated just south of Northland. Low pressure systems from the north have been pushed to the east by the large stationary high pressure systems. To date the low pressure systems that normally develop off the Australian coast have been non-existent.
The current weather pattern does increase the chance of a deep low forming north of New Zealand; the timing will determine if it can penetrate the high pressure system to reach Northland.
Rainfall
Most gauge rainfall totals were below the lower quartile for December 2016. The maps show the dry area from the Bay of Islands south, see figure 1 below:
Figure 1
Rainfall in millimetres map                                 Median rainfall map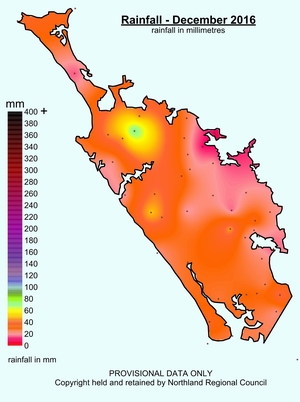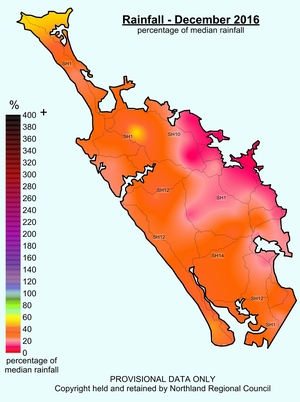 The region is in rainfall deficit up to thirty percent based on a comparison of actual totals against the expected long term totals for the months from July through to December. The catchments reaching critical low flows are carrying high rainfall deficits: see table 1 below.
Table 1
July - December 2016

Rainfall
stations
Expected annual
rainfall
Actual rainfall for
July to December 2016
Deficit
(mm)
Deficit
(%)
Kaitaia
861
614
-247

-29

Kerikeri 1056
876
644
-232

-26

Kaikohe
788
785
-3

-1

Whangarei
749
520.8
-228

-30

Dargaville
608
564
-44

-7
Northland has been experiencing a quiet period regarding storms, which are reflected in the rainfall deficits.
In July 2014 Northland experienced serious flooding; the region has been through two winters with no significant rainfall events since 2014. Since June 2016 Northland has received average to below average monthly rainfall totals with December being particularly low. See figure 2 below:
Find more rainfall maps on this website
Figure 2
Maps - Recorded Rainfall (% of median) for July – December 2016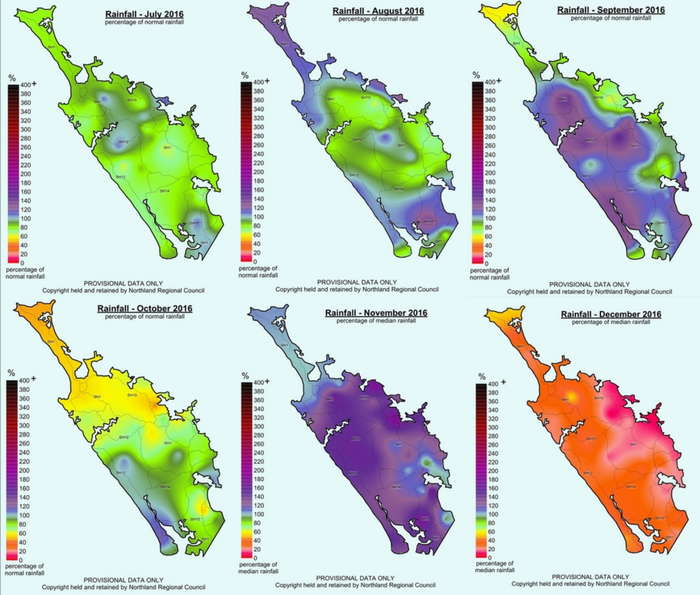 River flows
The December flow map (Figure 3, below) highlights the lower than normal flows across the region, with the Manganui catchment being very low, refer to the dark brown catchment in the southern region of Northland.
Figure 3
Flow Map – November 2016 and December 2016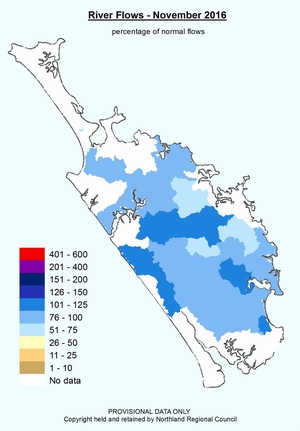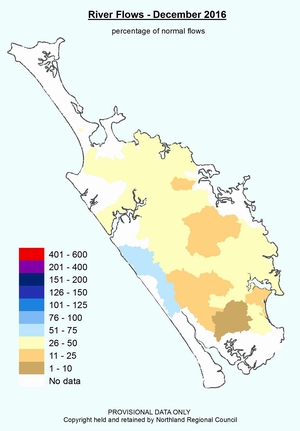 Flows that are below or close to the design drought flow are:
Maungaparerua at Tyrees Ford
Manganui at Permanent Station
Wairua at Purua
Kaihu at Gorge
Table 2 below shows the current prediction for the key river stations used across the region for key water take consents.
Table 2
Predicted River flows for Northland assuming no rainfall from 13 January 2017
Water Level Recorder

Days to reach
Mean Annual Low Flow
(MALF)

Days to reach
1  in 5 year low flow

Awanui at School Cut

1

11

Kaihu at Gorge

reached

20

Maungaparerua at Tyrees Ford

reached

5

Ngunguru at Dugmores Rock

20

33
Groundwater
December 2016 groundwater levels across Northland were below average for the Taipa, Kaikohe and Whangārei systems, the remaining aquifer levels were average for December 2016. See table 3 below.
Table 3
| | |
| --- | --- |
| Groundwater Systems | Current Status for December 2016 |
| Aupouri | Average |
| Taipa | Below average/ Average |
| Russell | Average |
| Kaikohe | Below average/ Average |
| Whangarei | Below average |
| Mangawhai | Average |
| Ruawai | Average |
Soil moisture deficits
Most stations are recording soil moisture levels slightly below average, most of the region is down to 125mm in defict. Typically soil moisture levels bottom out through December and January, beginning to rise around Feburary. Figure 4 below shows the soil deficits observed during the 2013 drought for Kaitaia and Figure 5 shows soil deficits for a range of Northland sites for 2016/17, the region is now approaching similar levels to the 2013 drought.
Figure 4
Drought soil moisture deficits - 2013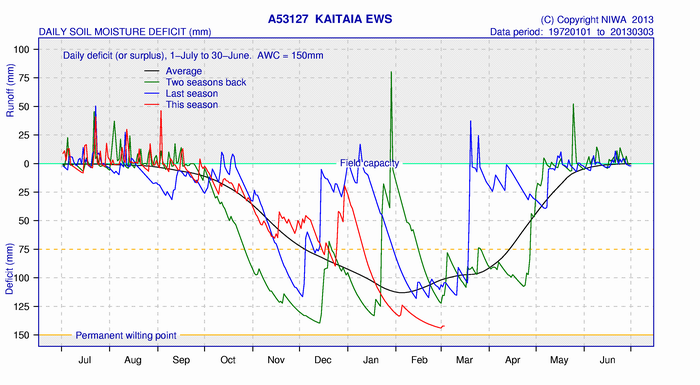 Under the present climate conditions, the soil moisture deficit is increasing by 4mm per day. The highest soil temperatures are normally found in January and February. Figure 5 below shows the current soil moisture deficit levels and rainfall measured at five of the NIWA climate stations.
Figure 5
Kaitaia - Soil moisture deficits - 12 January 2017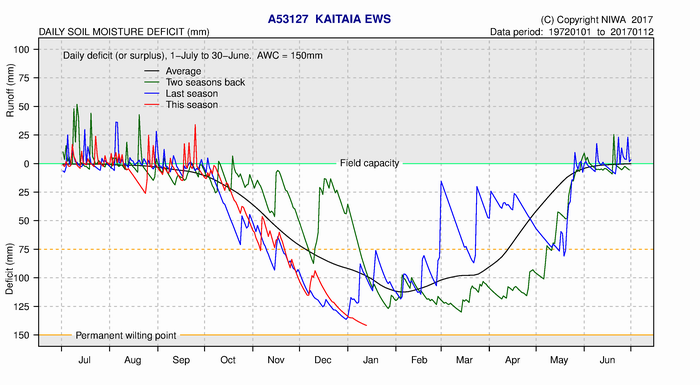 Kaitaia - Rainfall measured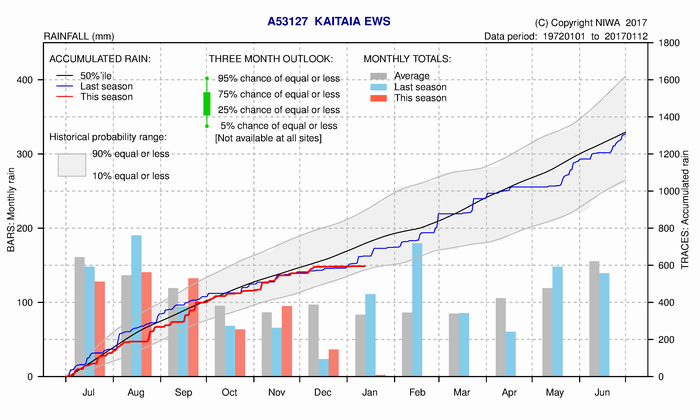 Kaikohe - Soil moisture deficits - 12 January 2017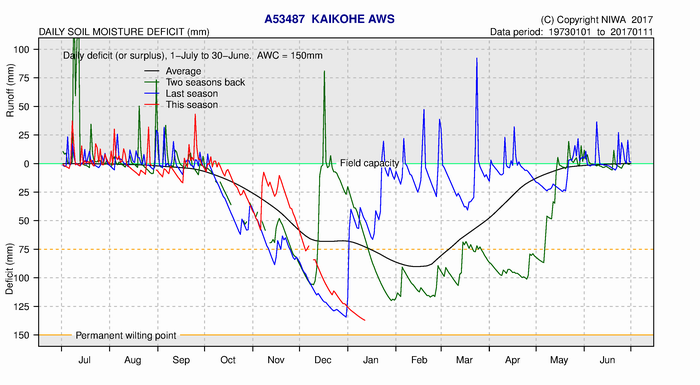 Kaikohe - rainflall measured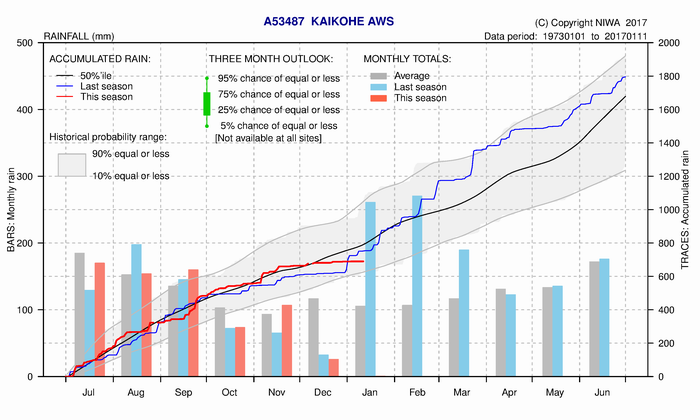 Kerikeri - Soil moisture deficits - 12 January 2017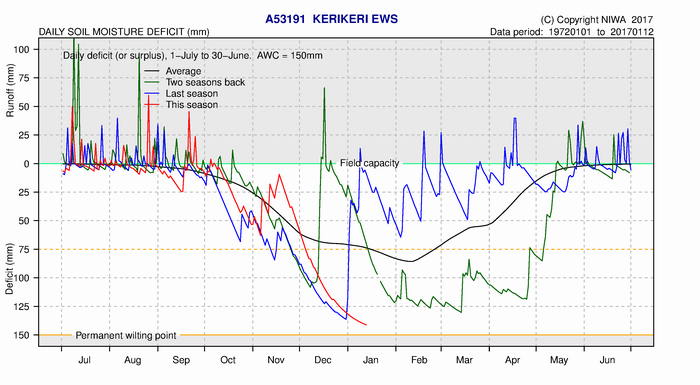 Kerikeri - rainflall measured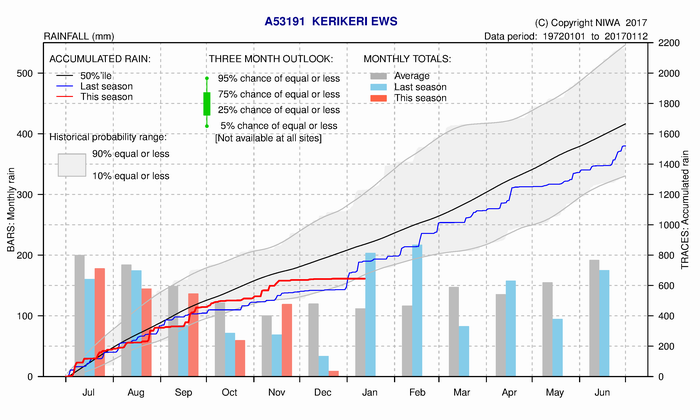 Dargaville - Soil moisture deficits - 12 January 2017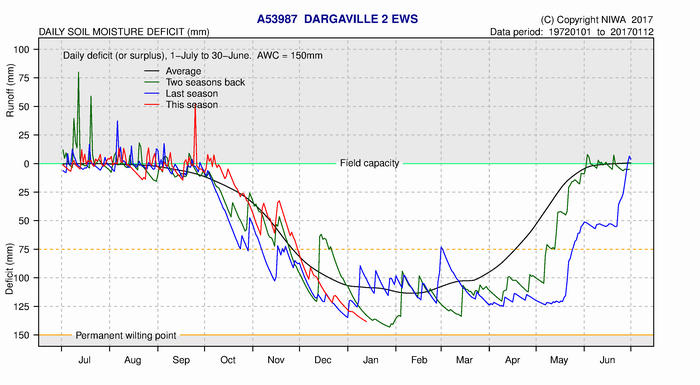 Dargaville - rainflall measured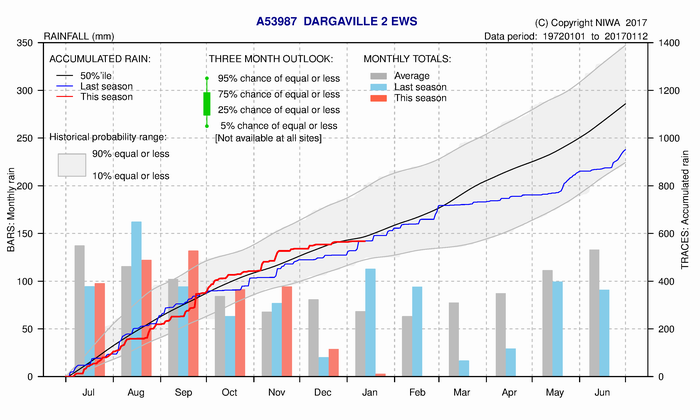 Whangārei - Soil moisture deficits - 12 January 2017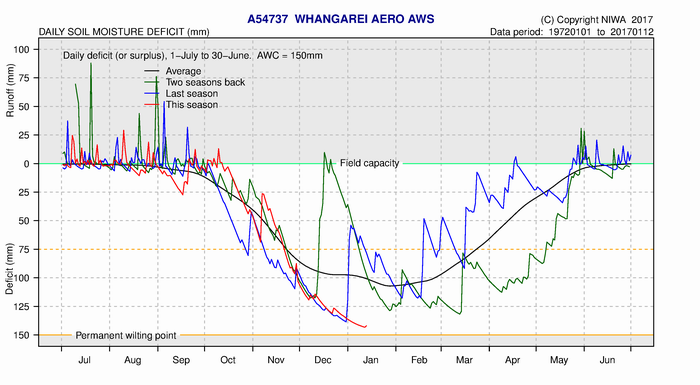 Whangārei - rainfall measured