December 2016 - climate report
18 Jan 2017, 2:53 PM
Large high pressure systems are now the dominating weather feature, which has kicked off a dry start to December 2016. With no significant rainfall forecasted for the rest of December, soil moisture levels will continue to decline.
The following areas of Northland are starting to experience dry conditions:
Bay of Islands
Kaikohe
Whangarei
Bream Bay
Hokianga
Dargaville
Ruawai
Paparoa
Most of the above areas have only received 10-20mm of rain for the three weeks of December 2016. In contrast there has been some localised thunder storm activity, Glenbervie receiving a 21.5mm one hour dump of rain on 19 December.
Rainfall
Rainfall received across Northland for November 2016 was regionally above normal. Steady showers delivering 20-30mm of rainfall were constant throughout the month.
Median rainfall map Rainfall in millimetres map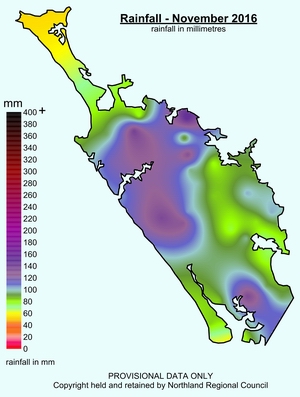 River flows
Due to the dry start to December, flows have begun to reduce. Some rivers are approaching mean annual low flow (MALF), which is the lowest flow expected each year. It's during this period the groundwater systems are the main source feeding the rivers and streams; this is called the base flow.
Flows in the Maungaparerua and Manganui catchments will be reaching MALF by the end of December 2016; the Hydrology team uses recession curves to predict flows seen in the table below.
Predicted River flows for Northland (Assuming no rainfall from this point onwards)

Water Level recorder

Days to reach
Mean Annual Low Flow
(MALF)

Days to reach
1 in 5 year low flow

Awanui at School Cut

25

40

Kaihu at Gorge

13

21

Maungaparerua at Tyrees Ford

8

20

Ngunguru at Dugmores Rock

33

47
Groundwater
Groundwater levels across Northland were below average for the Taipa, Kaikohe and Whangarei systems, the remaining aquifers were average for this time of the year.
| | |
| --- | --- |
| Groundwater Systems | Current Status for November 2016 |
| Aupouri | Average |
| Taipa | Below average/ Average |
| Russell | Average |
| Kaikohe | Below average/ Average |
| Whangarei | Below average/ Average |
| Mangawhai | Average |
| Ruawai | Average |
Soil moisture
Most stations are recording soil moisture levels slightly below average, with most of the region 100-125mm in defict. Typically soil moisture levels bottom out through December and January, beginning to rise around Feburary. Below are the current defict levels for Whangarei recorded at the NIWA climate station.