13 February - climate report
15 Feb 2017
Current situation
The dry weather is persisting in Northland with soil moisture deficits down to 135mm in Dargaville. The brief rain in late January and February did provide some relief to the mid-north.
Kaeo south through Whangārei were the main beneficiaries of the rain. Rainfall totals ranged from about 40-70mm, with Oakura receiving the most rain recording 67.5mm.
The rain would have helped fill water tanks and provide relief to the critically low river levels for the next few days. Those areas probably still required similar amounts of rain over the next week to make a lasting impression on the drought.
The MetService has advised the 7 week cycle of the high pressure system sitting just North of Cape Reinga has finally broken with a south easterly flow now expected which will bring some cooler dry weather. Currently the weather models indicate rain beginning from 15 February, both coasts looking to receive 25-50mm possibly over a four-day period.
Outlook
The MetService has advised that the models are uncertain for the last two weeks of February 2017. With the tropics heating up, the conditions are favourable for the formation of a tropical cyclone. The MetService have forecasted Northland to expect below average rainfall and warm temperatures continuing through February.
Rainfall
January was looking very similar to December for low rainfall. The rain event in late January bumped the figures up for the mid-north, but the remainder of Northland had a dry January (refer to figures 1 and 2 below).
January summary
Figure 1 : Median rainfall map Figure 2 : Actual rainfall map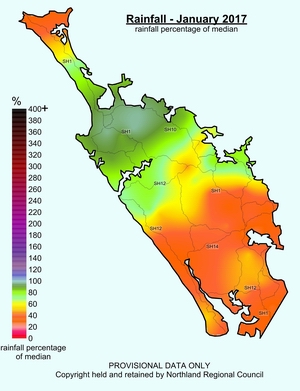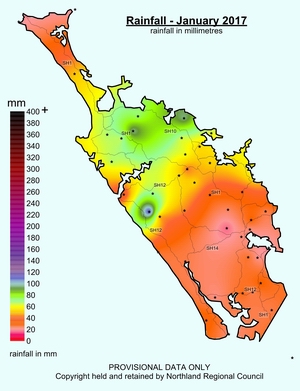 Both rain events did little to help the western and southern regions of Northland (refer to figures 3 and 4 below).
Rain event summary
Figure 3 : January rain event Figure 4 : February rain event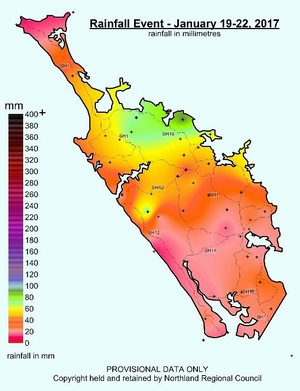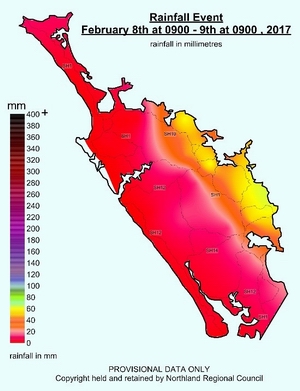 River flows
Flows for January were below average for the entire region. The Far North and Kerikeri catchments have reaped the benefits of the two rain events, but are still below the expected flows for January (refer to figure 4 below). For the flow status as of 13 February 2017 refer to figure 5 below.
Red dots indicate rivers that are currently below expected drought flows (1:5-year Design Drought Flow), which include The Mangakahia, Kaihu, Hikurangi and Ahuroa
Orange dots indicate rivers approaching drought flows
Yellow indicate s river above mean annual low flows
Green indicate river above mean annual low flow
Figure 4 : January flow map Figure 5 : River status as of 13 February 2017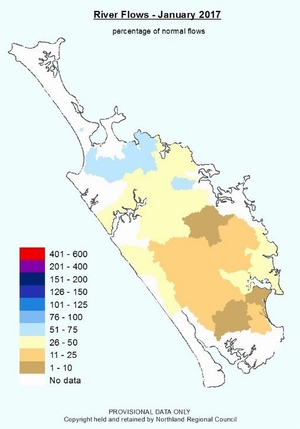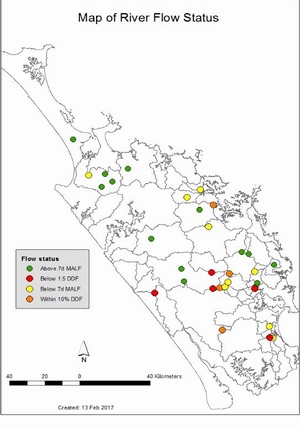 Using the prediction curves (recession curve) the approximate days to reach mean annual low flow and drought flows are detailed in Table 1 below.
Table 1 : Predicted river flows from 14 February assuming no rain for the next 35 days
Water Level recorder

Days to reach Mean Annual
Low Flow (MALF)

Days to reach
1 in 5 year low flow

Awanui at School Cut

12

25

Kaihu at Gorge

BELOW

BELOW

Maungaparerua at Tyrees Ford

5

16

Ngunguru at Dugmores Rock

19

32
Groundwater
Some aquifers are beginning to hit low levels, particularly in the Kaikohe, Whangārei and Ruawai area. The Maunu groundwater station in Whangārei recorded the fifth lowest water level for January since records began in 1983.
Table 2 : Summary of Northland Groundwater levels
| | |
| --- | --- |
| Groundwater Systems | Current Status for February 2017 |
| Aupouri | OK |
| Taipa | OK |
| Russell | OK |
| Kaikohe | BELOW AVERAGE |
| Whangarei | BELOW AVERAGE |
| Mangawhai | OK |
| Ruawai | BELOW AVERAGE |
The Ruawai and Maunu groundwater stations are at similar water levels observed in the 2013 and 2014 droughts (refer to figures 6 and 7 below), the colors indicate:
Blue - actual water level
Red - average/ expected water level
Dark green - normal range 90th percentile
Light green - extreme range 10th percentile
Figure 6 : Puriri Park at Maunu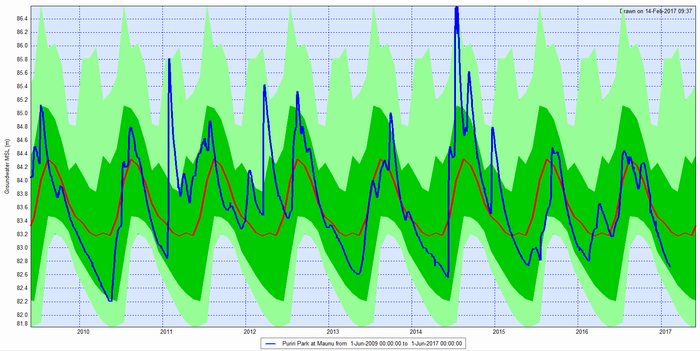 Figure 7 : Ruawai at Wallace Road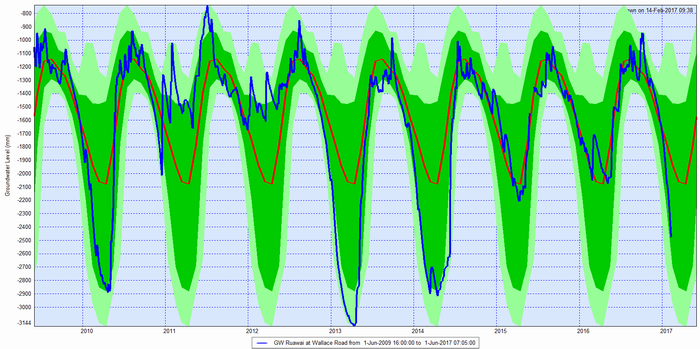 Soil moisture deficits
Soil moisture deficits levels at the NIWA climate stations have varied across the region ranging from 75mm recorded Kerikeri to approximately 137mm at Dargaville.
The westerly wind pattern has abated slightly allowing some easterly flows combined with the recent rain and decrease in soil temperatures have helped alleviate soil moisture deficits along parts of the east coast (refer to table 3 below).
Table 3 : Northland Soil moisture deficits (NIWA Climate Stations)
| | |
| --- | --- |
| NIWA Climate station | Current Soil moisture deficit (mm) |
| Kaitaia | -125 |
| Kaikohe | -125 |
| Kerikeri | -75 |
| Dargaville | -137 |
| Whangarei | -112 |
| Warkworth | -130 |
Soil moisture deficit remain high in the western region, at similar levels seen in the 2010 drought (refer to figures 8 and 9).
Figure 8 : NIWA Climate Station Dargaville 2010 Drought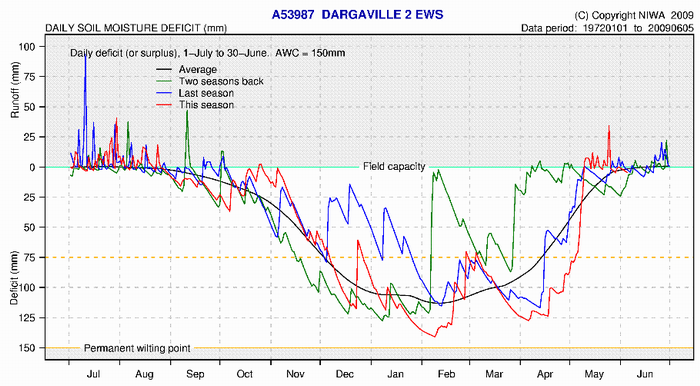 Figure 9 : NIWA Climate Station Dargaville 2017 Drought