July 2017 - Climate report
11 Aug 2017, 3:22 PM
Summary of current situation
July rainfall was above average rainfall along the West coast to below average rainfall along the East coast of Northland. River flows followed the same pattern. No major rainfall events occurred in what is typically the wettest month of the year. Groundwater levels have continued to recharge. The coldest temperatures of the year were recorded on two consecutive nights at the end of the month.
Outlook
The Metservice forecast unsettled weather for August with frequent fronts and lows, and prevailing North-westerly winds. This is likely to result in a relatively warm and wet month, particularly in Western areas. Temperature is expected to be average to above average for the month. Climate models predict neutral conditions (neither El Nino nor La Nina) until the end of 2017.
Rainfall
The Northland rainfall pattern for July displayed a clear gradient from West to East, with greater than average rainfall along the West coast, reducing to about average rainfall through central Northland to well below average rainfall on the East coast. The highest rainfall total for July was recorded at the Waimamaku at Wekaweka Road station, which had 467mm for the month, which is 148% of expected. Pouto Point recorded 199.5mm which is 193% of expected, almost double the average July rainfall. The lowest rainfall total on the East coast was recorded at the Okarika at Rowland Road station in the Hikurangi swamp with 96.5mm, for only 53% of the July average.
July rainfall map
Figure 1 : Monthly rainfall compared to monthly median rainfall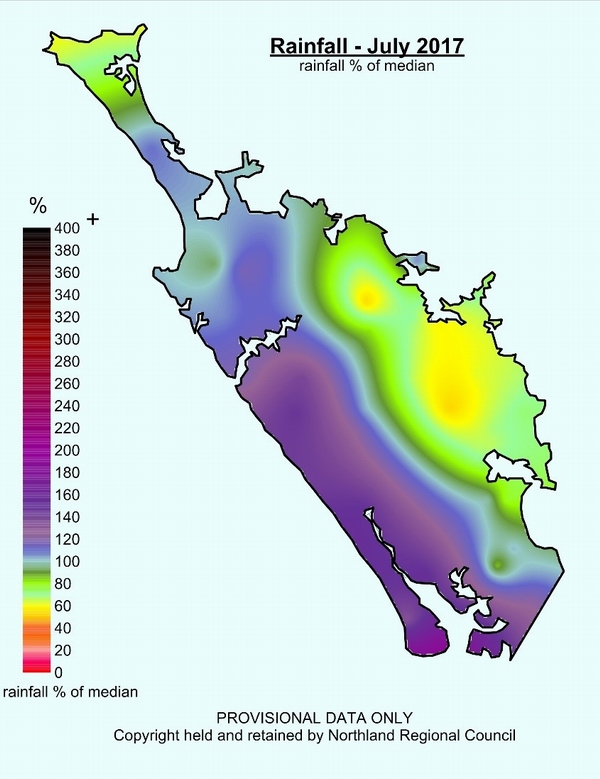 River flows
As expected from the regional rainfall pattern, river flows in July also displayed a West to East gradient, with greater than average flows recorded in Western catchments, about average in Central catchments and below average in Eastern catchments. The highest average flows were recorded in the West in the Awanui, Waipoua, and Kaihu catchments, which all recorded over 130% of typical July means. The lowest average flows were recorded in the Waiotu catchment which recorded 44% of average flow for the month.
July river flow map
Figure 1 : July mean flow compared to expected flow
Groundwater
Groundwater levels through the region continue to rise and are experiencing the best winter recharge for some time. An example of this is shown in the figure 3 below:
Figure 3 : Poroti West at Poroti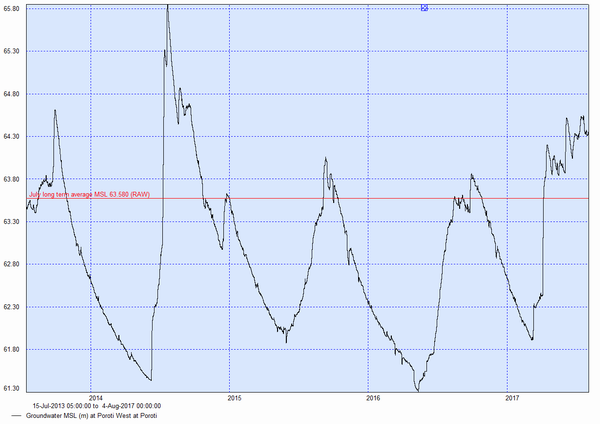 Temperature
Temperatures recorded in July at Robert Street in Whangarei saw the highest temperature for the month of 18.9 degrees Celsius recorded on July 18. The cold southerly blast that dropped snow on the South Island and central North Island on July 12 and 13 saw the lowest daytime high for the month of 11.8 degrees Celsius in Whangarei on July 13. The coldest temperatures recorded this year in Whangarei were on consecutive mornings at the end of the month on July 30 and 31, with 0.7 and 0.9 degrees Celsius respectively, resulting in frosts in most areas.
Figure 4 : July air temperatures at Robert Street Whangarei